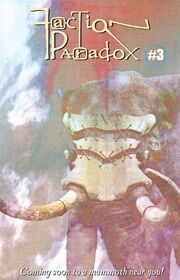 This story was never produced.

Faction Paradox #3 was the cancelled third issue of the 2003 Faction Paradox comic series. Its main story was to be Creatures of Habit, which would have continued the story begun in Political Animals and Bêtes Noires & Dark Horses.
Publisher's summary
Edit
Events quickly whip themselves into a frothy bloodbath, as the strongarm of the British Secret Service, named the Ratcatchers, try to capture Mayakatula much to their chagrin - not to mention repeated disembowelment. Meanwhile, Sabbath has an impromptu duel, and Mother Francesca has a colorful, albeit somewhat civilized discussion with a prostitute in a bar. It's more fun and skull-faced merriment in Faction Paradox #3, "Creatures of Habit", from your buds at Image and Mad Norwegian Press.
Behind the scenes
Edit
This issue was never produced. According to Mad Norwegian Press publisher Lars Pearson, this was for three reasons: "The current super-hero domination of the market, and Image's current restructuring, and the immense cost and manpower involved in doing a comic when we could be doing something else." Lars also said "it's virtually certain that [the story]'ll be completed in some form." [1]
Community content is available under
CC-BY-SA
unless otherwise noted.