Faction Paradox is a series of novels centered around the War. The series originated as a spin-off of the BBC Doctor Who books. A spin-off of the Faction Paradox series, The City of the Saved, began in 2012.
Overview
Edit
The Faction Paradox series is centered around the War, a history-spanning conflict between the Great Houses of the Time Lords and their unnamed enemy. Originally a subplot in the Eighth Doctor Adventures, the War features characters and concepts evolved from the original Doctor Who set-up, in several cases with names changed or obscured for reasons literary (most of the groups or items mentioned are described in rather different terms with emphasis on certain aspects) and legal (BBC-owned properties are referred to by secondary, non-BBC-owned names). Faction Paradox themselves are not the Enemy, and play a relatively small, neutral part in the War, willing to act against both sides in their own interests.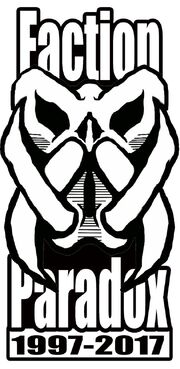 Anthologies
Edit
Two Faction Paradox audio drama series have been produced, both written by Lawrence Miles: The Faction Paradox Protocols and The True History of Faction Paradox.
In 2003, the first two issues of the comic series Faction Paradox were produced by Mad Norwegian and published by Image Comics. The series was subsequently cancelled. The comic was written by Lawrence Miles, with art from Jim Calafiore and inks by Peter Palmiotti. It was set between the War's end in The Ancestor Cell and The Adventuress of Henrietta Street.
External links
Edit
Community content is available under
CC-BY-SA
unless otherwise noted.